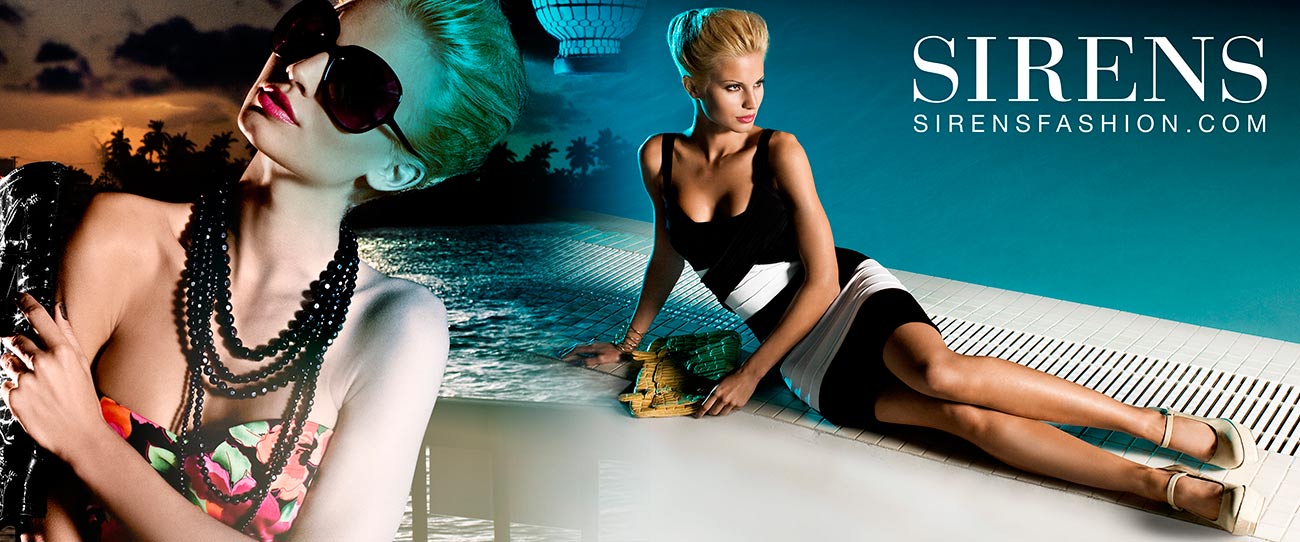 ART DIRECTOR | MARKETING MANAGER, 2008-2010
For over 2 years Anna worked as Marketing Manager/Art Director for Canadian Fashion Retailer SIRENS (Y.M. Group of Companies) supporting over 80 retail locations across Canada and US and supervised marketing department (including marketing coordinator, marketing intern, in-house photographer, freelance web designers, freelance photographers, wardrobe and prop stylists, hair and make up artists, models, production coordinators. Reporting to VP of Marketing & Operations, Marketing Manager was in charge of developing and overseeing all marketing initiatives for related banner.
While working at Sirens Anna developed seasonal and annual marketing plans to support Merchandising and Operations while working on budgets for each category based on historical data, and revising according to current updates and operational sales. Reporting to VP of Marketing and Operations, Anna was accountable for categories of marketing expenses, calendar schedule for marketing events, seasonal campaign production, mid season promotions, online marketing, print and media advertising. She held budgetary accountabilities; ensuring finances were controlled according to project values.
Anna conceptualized, Art Directed and created all seasonal campaigns for Sirens & Number 7. She was responsible for control of printing and allocating of all marketing elements shipped to stores across Canada and US.
In order to effectively launch campaigns and seasonal promotions Anna utilized time management strategies and processes while organizing weekly meetings to discuss and adjust timelines, review reports, and communicate with store management. On a regular basis Anna designed and coordinated in-store fashion window posters, wall marketing, table and wall signage, fashion price points, and mall easels. This also included creative design development of marketing package for Store Closings, Store Grand Openings, 'Coming Soon' hoarding signs, and more. Anna travelled to store locations (when required) and worked with visual team and District managers on analyzing store space and developing customized marketing package according to store needs.
Anna was in charge of all Sirens advertising in print, on radio, online, outdoor ads, bus shelters & more.

ART DIRECTION
Anna directed conception, planning, and production of all Sirens advertising campaigns (with durations of approximately three to four months) from trend research and photo shoot concept to building production teams and travelling for Art Direction of production (Miami, New York, Toronto).
She worked with leading model agencies, fashion photographers and talent agencies in Canada & US choosing and booking talent for advertising campaigns. She negotiated rates for talent and made all required booking arrangements for talent travelling. Anna created storyboards for photo shoots working closely with in house and freelance stylists as well as Merchandising department while determining fashion looks for the campaign. She provided detailed on set Art Direction working with team on achieving best possible result. Background in Photography and Fashion Retouching helped Anna to achieve high-end results and get flawless campaign images.
ONLINE PRESENCE
Anna was in charge of managing social media components, including Facebook page with rich updates, weekly promo e-blasts, fashion newsletters, and special items for promotions including gift cards, flyers, and discount coupons. Anna launched Sirens Facebook page and built 13K subscribers in one year. Anna planned all website updates and initiatives and directed them to web development specialist.

NEW PROGRAMS & SUCCESS
Anna launched new gift card promotion program which made Sirens gift cards rank #8 of top 10 profit-making categories in a year. Programs was very successful and demonstrated double sales in Sirens gift cards comparing to previous years. Some other marketing initiatives that Anna worked on were ECO bags (fashion reusable bags), Holiday gift boxes.

RECOMMENDATIONS:
Fraser Hui
National Human Resources Manager at JLT Group
I had the privilege to work with Anna Scetinina at YM Inc. Anna always struck me as extremely talented in the field of Graphic Design; her abilities in retouching; and her artistic creativity. I remember one instance when a project was in a crisis and needed some changes that I did not think was possible under the circumstances. Thankfully I approached Anna for her assistance, and not only did she amazingly fixed all the issues very quickly, but she further improved it by making more changes. Along with her friendly and professional attitude, I know that Anna will immediately add value to any teams or organization she is part of.
Sarah Koffman
Graphic Layout Artist at TC Media
I had the enjoyable opportunity to work with Anna while at YM Inc. An extremely creative and dedicated worker, Anna was always a cheerful and helpful person, who always had new ideas to make out work together even better, even when she was extraordinarily busy, she managed to always meet our tight deadlines. A kind and creative person with an excellent work ethic, I would highly recommend Anna to anyone.